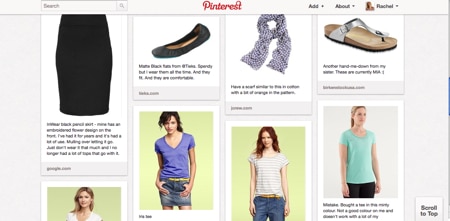 This week is all about clothing. Yesterday Vicki gave us a great tutorial on clothing swaps. Today, creating an inventory of your wardrobe and a look at my 25 piece summer / spring wardrobe.

It never really gets that hot here. I was talking to a local and they said there used to be more distinct seasons on the Isle of Man. But over the years it's cooled off in the summer and warmed up in the winter.
The lack of a hot summer means that my summer wardrobe is really my winter wardrobe with a few edits and additions.
I packed away my sweaters a few weeks ago and got my winter coat dry cleaned hoping that would bring the hot weather on. It did. For a few days. There was a day recently where I could have used my big black puffy jacket but instead I layered up.
Many of you have asked for a list of what I kept clothing wise after our big purge. For a short while I kept a spreadsheet but just recently I've decided to use Pinterest. I know, I say Pinterest is good and Pinterest is bad, but for me it's pretty good. I use it for lists mostly and sometimes for inspiration. I don't browse on it much. Like most things, moderation is key.
Know what you have.
Taking inventory was a great way to identify items that need replacing and mull over donating a few things. I'm still making shopping mistakes and one of my cardigans has seen better days. My wardrobe is on the small side so I'll probably find replacements before donating anything.
Here are my 25 pieces:
black flats
silver sandals
dress
dress
dress
skirt
skirt
skirt
skirt
t-shirt
t-shirt
t-shirt
t-shirt
t-shirt
sweater
blouse
scarf
scarf
jacket
jeans
jeans
cardigan
cardigan
cardigan
tank
When I look through my wardrobe I think I could use a few more scarves, another cardigan and two more tops. Otherwise I have enough to get me through the week. I wear 90% of my clothes 98% of the time. The few things I don't wear often are a little too dressy for my everyday life.
Use an inventory tool that works for you.
It could be an Excel spread sheet or you could take photos of each item and then upload them to an album on your computer. It could be a small notebook. It could be notes on the back of an envelope. Just find something that works and that you'll continue using.
Oh, and when it stops working for you find another system. I stopped updating the Excel spreadsheet so switching to Pinterest jolted me into action.
Have fun.
This was actually a fun project for me. I'm feeling good about what I have in my wardrobe. I'm also not beating myself up too much for the few things I'm not wearing that often or that weren't great additions (mint t-shirt, I am talking to you).
Anyone else have an inventory system for their wardrobe?