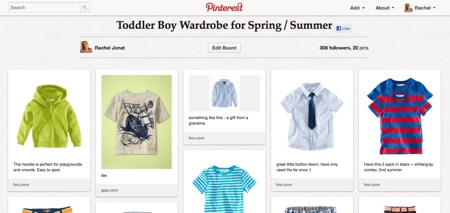 This week is all about clothing and wardrobe management. Monday Vicki gave us a tutorial on clothing swaps and yesterday I shared my 25 piece wardrobe. Today: my son's wardrobe.
Funny how things change. When my son was a newborn I wanted all of his best items to be things we bought him. I even got a little peeved when friends and family gave us gifts of clothing. There would be less time for him to wear all the adorable stuff I bought him.
Yes, I was a little worked up about baby clothes.
Now I gladly accept gifts of clothing. Great. Less for me to buy.
We get a lot of Henry's wardrobe from his grandmothers. They pay a lot in postage to send us t-shirts, jackets and pants for birthdays and Christmas. Most of what they send us is great. If I'm not keen on something we will wear it a few times and if I still don't like it, I'll add it to our donation pile. I've let go of my gift guilt and try to send things on to people who will use them instead of storing them away.
I'm grateful for these gifts. While I still really enjoy seeing my boy dressed up in a cute outfit, I could care less if someone else bought it.
A Week's Worth Of Clothing
My rule of thumb is to have a week's worth of clothing. This would be a week where each day's outfit became too dirty for another day of use. We have two hooded sweatshirts that usually need a wash once a week and our two outer jackets, rain and jean jackets, can be spot cleaned most of the time.
We've recently moved and our new washing machine is far far better than our old washer dryer combo. It's just a washer but it spins our clothes out so well that even if it's damp out, they'll be dry in less than a day.
A few months back, Henry's wardrobe was on the low side. He was about to move into a bigger size and I didn't want to buy anything that was only going to get a few months wear. His wardrobe was too small and our laundry situation was too tight (small size washer/dryer plus it took almost two days for things to dry). I was always behind on the laundry and hunting for something clean for him to wear. I'll admit it: we needed more clothing. Or an electric dryer.
Find The Sweet Spot
More clothes and a better laundry situation has put us in the sweet spot. All of Henry's wardrobe can be washed in two loads and I can fit most of it on one of our indoor drying racks.
Most of his clothing is worn most of the time. Now that it is a little warmer out (but not today!) we don't wear the hockey jersey as much. The rain jacket is also used less frequently and the jean jacket is usually layered over a hoodie if it's chilly. Some weeks he wears shorts every day, other weeks it is still jeans or trouser. That's trousers, not pants, because as the drycleaner pointed out to me the other day, pants means underwear over here.
Like a lot of my trials at living with less, I'm still learning and adjusting as we go along. This is the right amount of clothing for our current laundry situation, the lifestyle (read: mess factor) of my son at this age and our not so warm summers.
You can see a board of his clothing here on Pinterest. PS. I really don't recommend those Converse sneakers. Adorable but just terrible for small feet and laces are a pain. Henry's in a growth spurt and should be out of them soon.
Toddler Spring / Summer Wardrobe
hoodie
hoodie
rain jacket
jean jacket
sneakers
sandals
jeans
jeans
trousers/pants
shorts
shorts
shorts
t-shirt
t-shirt
t-shirt
t-shirt
t-shirt
polo
polo
long sleeve t-shirt
short sleeve button down
hat
hat
hat
hockey jersey
long sleeve button down
In addition to this we have five or six pieces of clothing that are a bit too big (most of them were gifts). I keep them in the mix of every day clothing so I don't forget about them. This isn't a nuisance because most of Henry's clothing fits in one drawer and a handful of things, his jackets and shirts, are hung up.
In addition to this we have three sets of pajamas and two swim trunks, a UV protection swim t-shirt and a half dozen socks. Erin wrote about switching to t-shirts and soft pants or sweat pants as pajamas. It creates a versatile wardrobe. I think I'll be moving to this as soon as we stop getting gifted pajamas. All three sets of pajamas we have were gifts.
How do you decide the right amount of clothing for your child? Do you have space limit or a number limit? Or, like me, is it a mix of what you've been given plus a few things to fill any gaps.