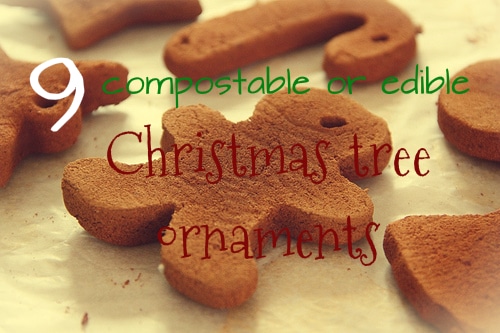 All of our Christmas tree decorations are packed away in a decoration box in Vancouver.
They were too fragile to ship overseas. At least that's what I told myself when we were in the thick of moving.
Perhaps I was feeling too overwhelmed to put the energy into packing them properly. Or I was thinking we're probably not going for long – why bother sending them across.
Those Christmas decorations aren't doing us much good this year, a year when we will hopefully have our first live Christmas tree.
I don't want to buy a lot of new decorations. And I'm not terribly crafty or inclined to start making angels and stars out of felt. My other goal is to not accumulate a lot of ornaments that we will have to store year round and eventually ship back to Canada.
Is there such a thing as minimalist Christmas tree ornaments? Probably not.
But there are decorations that are edible or compostable and don't require huge craft or sewing skills to put together. Or a glue gun.
Please note: I am not making all of these decorations. This is not turning into a craft blog.
A few people commented that the list of advent gift and activities I put together was exhausting just to read and was not a way to simplify anything. Rest assured we're not doing all of the activities on that list and I am certainly not suggesting anyone else do all of them either.
They were meant as a resource for ideas and inspiration. Just like the list below.
At most I'll string popcorn and cranberries one evening while we watch Elf and Henry and I will make/bake cinnamon hearts or gingerbread stars together. If I get a third trimester surge of energy I might take a stab at dried oranges because I love the smell of orange.
9 Compostable or Edible Christmas Tree Decorations
All of these photos have been 'pinned' to the originating website. Head over for a tutorial if you're interested in making any of them. You'll want to use 100% cotton thread or twine to make the item compostable. Otherwise remove ribbons and such before you send the item back to mother earth.

1. Cranberry Garland
2. Gingerbread Stars
3. Popcorn String
4. Cinnamon Apple Sauce Hearts
5. Christmas Spice Bundle
6. Dried Orange
7. Orange Pommander
8. Pine Cones
These would be compostable if you attached the ribbon by looping it under the leaves for easy removal and didn't add sparkles.
9. Paper ornaments and Chains
Beyond my skill or motivation, but you could remove staples and brads and compost the paper from these lovely ornaments.
Photo Credit: JimmieHomeSchoolMom
Any other ideas for simple earth friendly and easy to make Christmas ornaments?