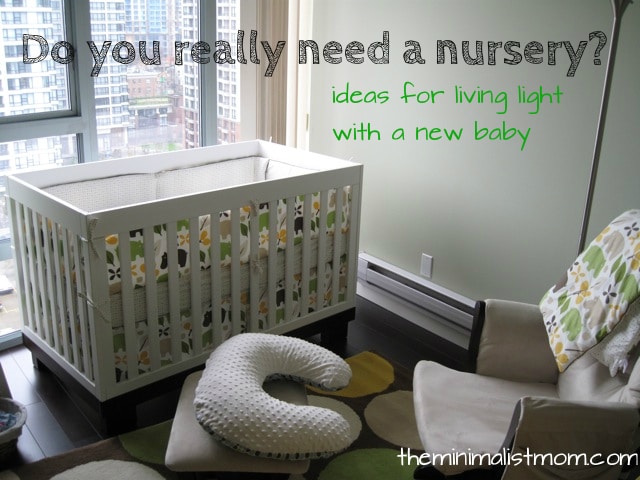 We arrived home from the hospital with no bed for our new baby.
It wasn't a case of ardent minimalism that left Wil with no bed. Nor was it a case of being unprepared. We just assumed that he would be like our first child and only sleep for a long stretch in our bed, a carrier or stroller.
We were pleasantly surprised when Wil slept 2-3 hour chunks in his bassinet at the hospital and later in the bouncer at home. Friends loaned us a bassinet and stand when Wil was a few days old. Thanks friends!
As for a nursery, this time around I haven't bothered.
Wil's clothing and cloth diapers are stored in two bins in our living room. That's where we spend most of our time.
In the evening I bring a small basket of overnight essentials for him to our bedroom where he sleeps. Eventually he will share a room with his brother.
Decorating and furnishing a nursery can be a wonderful activity for expectant parents. But it isn't essential.
It's hard not to feel the pressure to makes space for and decorate a nursery when we're inundated by gorgeous photos of whimsically decorated baby rooms on sites like Oh Dee Doh and Pinterest.
I pined for a room like that with our first child. You can see my attempt in the photo above. It's true, I really enjoyed the room. But we rarely used it. Our son ended up co-sleeping and we used the nursery as a play room for a few hours a day. That beautiful crib with an expensive mattress was only slept in a few times before we sold it to move overseas.
It's okay to skip the nursery. It's okay to just have a crib and essentials in a room. No Etsy prints on the walls or rug to match the crib bedding.
You're not a bad parent.
It doesn't mean you love your child any less.
Our 'nursery' right now is a few bins in the living room, a glider in our bedroom and a drawer in our older son's room. Nothing worthy of sharing photos of but also, nothing to be embarrassed by or feel that we aren't giving our son a great start in life.
Wil is smiling, laughing, sleeping well and in the 75th percentile for weight – not shabby for a baby who came home to no bed!
Anyone else skip decorating and furnishing a traditional nursery? Was it for convenience, space or budget reasons? Do you feel like you missed out on a right of passage?
Pregnancy & Baby E-Book Sale
Expecting a baby or hoping to be soon? Check out this wonderful e-book bundle for expectant parents.
My book, The Minimalist Mom's Guide to Baby's First Year, along with four other pregnancy and baby related books, are on sale as a bundle for $7.40 – a savings of more than 80%!
I'm a big fan of Kate Tietje's site, Modern Alternative Mama, and Kate has two e-books in the sale. I've also heard great things about Unbound Birth for women looking to have a medication free birth in a hospital setting.
This great deal lasts until Monday morning next week.
Healthy Pregnancy Super Foods by Kate Tietje
In Healthy Pregnancy Super Foods, Kate simplifies pregnancy nutrition with just two rules: 1) Don't eat junk food and 2) Eat super foods. This ebook includes details about the super foods you should be eating (and a basic list of what you should avoid), what pregnant women's nutritional needs are, and offers more than 30 super food recipes.
Fearless Birth by Kristen Burgess
Fear of giving birth is a very real thing, but through the Fearless Birth workbook and bonus tools, Kristen helps you understand the source of your fears, create positive images of birth, let go of fear and approach labor and birth with confidence and peace of mind.
Unbound Birth by Jennifer Yarbrough
Unbound Birth: How to Have a Natural Birth in the Hospital is an inspiring collection of natural hospital birth stories. With determination, information, preparation, and support, Jennifer offers women hope for the beauty of a natural birth within a hospital setting.
The Minimalist Mom's Guide to Baby's First Year by Rachel Jonat
Parenting is a demanding job, and the first year with a new baby is exciting, ever so tiring and filled to the brim with baby toys, gadgets and gizmos. In The Minimalist Mom's Guide to the Baby's First Year, Rachel shares her own journey into motherhood and the lessons she learned about avoiding the clutter trap of too much baby stuff, slowing down to enjoy the early months with your new baby, saving money, creating a peaceful home and finding more time in your day for things like sleep!
Breast to Bib by Kate Tietje
If you've ever wondered how to get a baby started with real food, this is your go-to guide. In Breast to Bib, Kate offers help with breastfeeding and discusses low milk supply and homemade formula options as well as how and when to introduce solids and tips for handling picky toddlers. Plus you'll find 27 healthy, family-friendly recipes to get you started!