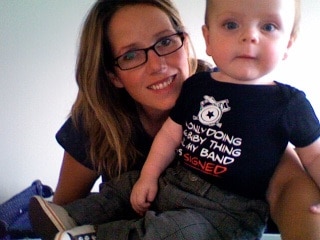 In September of 2010 my husband and I decided to become Minimalists. What does this mean? We want to live a life free of clutter – both physical and mental. We want to own fewer things and do more.
So far that means getting rid of half of our possessions including our car. It feels really good. You should try it.
Update: it's now February of 2011 and we're still living car-free and with a lot less stuff. We've paid off over $60,000 in debt in a year. We have just over $20,000 still to pay off. When I am asked about how we did it I say minimalism+luck.
Another Update: we moved overseas! My husband was offered an exciting job and we moved to the Isle of Man at the end of May of 2011. Before departure we sold all our furniture and donated a car load of items. We brought three suitcases with us and shipped 10 small and 4 medium boxes of housewares, winter clothing and what remained of Henry's toys. We have just a few boxes in storage with family.
I use this blog to document our journey, inspire and inform those new to the minimalist movement and connect with like minded folk. You won't find recipes for chicken stock here. You will find discussions on how to live a richer life with less stuff.