Do Less: A Minimalist Guide to a
Simplified, Organized and Happy Life
(Adams Media, 2014)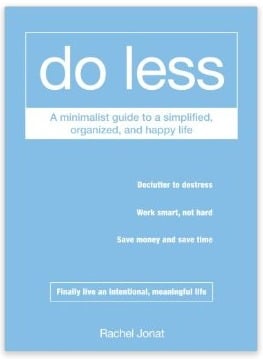 The book Do Less, delivers a great and unique format to guide you through your minimalist endeavors. I like the fact that its not only aimed at one type of lifestyle; whether you are a single person looking to streamline your life, or a parent who's looking to make some changes, it resonates at any point you are in your life.- Eva
Packed with excellent advice and new perspectives on minimalism, clutter, and life in general. I raced through it as soon as it arrived, ordered two more to give as gifts, and am looking forward to re-reading it right away. – Helen. A
Stress less while living more!
An inviting living space. Time spent with loved ones. Peace of mind.
With Do Less, a happier, more serene life is just moments away. From your home to your finances, this straightforward guide teaches you how to scale back your possessions and commitments to just what you really need. With hundreds of ways to minimalize your life, you'll quickly uncover the joys and rewards of paring down.
A must-have for any shelf, Do Less helps you rediscover the simple moments that have been buried beneath the piles of to-dos, to-knows, and to-buys.
The Minimalist Mom's Guide
to Baby's First Year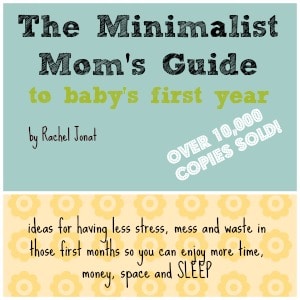 Parenting is a demanding job and the first years with a new baby are exciting and ever so tiring. I know, I was recently a new mom myself. I was sleep deprived, overspending and being swallowed alive by closets and counters filled to the brim with baby toys and all the gadgets and gizmos I thought I needed. After finding minimalism I realized it didn't have to be that way.
I could have more space, more time and more money in my wallet.
I could 'have it all' by forgetting about the Joneses and those ridiculously long 'must-have' baby lists.
This book is full of ideas for:
doing more with less
avoiding the clutter trap of too much baby stuff
slowing down so you can enjoy the early months with your new baby
saving money
creating a peaceful spacious home no matter the square footage of it
finding more time in your day for things like sleep (!), relaxing and bonding with your new baby. Oh, and did I mention more sleep?
Praise for The Minimalist Mom's Guide:
There's more to this book then just a fight against "stuff" it also highlights the value of experiences, gifts of time, family, and other types of support. Highly recommended. – Sandra H

This book changed everything I had previously thought about how much stuff was required to have a baby. The idea of owning less things (seriously, only one sippy cup??) blew my mind, but have helped me let go of some of the excess and embrace just what I need, not everything I want. – Laura
Buy the book today in paperback or Kindle format for under $6.