The Minimalist Mom's Guide to Baby's First Year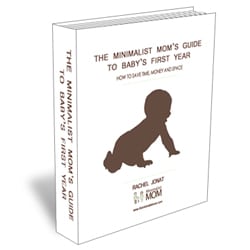 This is the book I wish I had read while I was pregnant. Maybe even before I got pregnant.
But I didn't have this book. I had an obsession with online ordering and my husband and I decided to sell, buy and renovate homes as I entered the third trimester and as my husband was mostly out of town. I was stressed. So stressed I would dash into a pharmacy every other day to check my blood pressure. So stressed I fixated on strollers and onesies and bought more and more stuff.
Stuff wasn't much help when our son arrived. Neither were the credit card bills that I had accumulated from my lunch hour and online shopping.
What was helpful:
sleeping when I had time to sleep
eating a nutritious meal
asking for help from friends and family
slowing down and savouring the short intense window of my son's infancy (newborn cries and diapers included)
I wrote this book because I want other parents to find some peace when they have young children. I want others not to make the same mistakes I did. I want others to not feel weight of stuffed closets and unworn and now too small baby clothes the way I did. I want others to have more time, space and money than they thought they could. I want others to see that a dose of minimalism and a bit of simple living can go a long way in smoothing out the transition of having a new young baby in the home (be it a 2nd, 3rd or 4th baby!).
This book is full of ideas for:
doing more with less
avoiding the clutter trap of too much baby stuff
slowing down so you can enjoy the early months with your new baby
saving money
creating a peaceful spacious home no matter the square footage of it
finding more time in your day for things like sleep (!), relaxing and bonding with your new baby. Oh, and did I mention more sleep?
Embracing the ideas and tactics in this book helped me:
have less to clean – yeah!
get more sleep
live peacefully in a small home
beat toy clutter
pay off $82,000 in debt in just under 2 years
stay at home with my son instead of going back to work full-time
enjoy these early years with my son
If you want more peace and simplicity in your life this book can help you.

Price: $5
Praise for The Minimalist Mom's Guide to Baby's First Year
After reading this book, I took a long slow walk, in the rain. I wanted Rachel's ideas to sink in, and to savor the peace of her words.
I realized that I can't wait to just give away the boxes of Stuff that have been accumulating in my basement. Thinking I'm going to have time to sort, organize, and sell it is unrealistic and, frankly, makes me feel more overwhelmed.
Rachel's bold words rang true on so many occasions: bins and label-makers are not clutter solutions. And the money spent on the stuff we regret having bought is already gone. Letting go is freeing.
When one has a baby, the pressure to upgrade, get equipped, and be prepared comes not only from stores, but from family and friends. Rachel's voice is like a lighthouse in a storm. We must clear spaces in our houses and minds so that we have clarity to enjoy this life that is passing us by.
- Amy Suardi of Frugal-Mama.com and TLC's Parentables
Excellent Advice The Minimalist Mom's advice is to-the-point and very useful. We have two little boys (3.5 yrs and 6 months) and this book pretty much sums up how we have lived since our babies were born. We've spent very little money but we've been able to spend a ton of time with our boys, and the years have been awesome so far. This book is a great reminder that simplification is key, you don't need most of what you think you do, and that if you aren't working to pay for the latest baby gadget, you'll have more time to actually hang out with your baby. I highly recommend it if you're thinking about having children, or if you already have kids and are feeling a bit suffocated by all the baby stuff that seems to multiply in your house once kids arrive. – Louise
Practical and Words for Thought Living a minimalist life style is not something everyone does, but the Minimalist Mom gives a lot of good advice and reasoning for moving toward minimalism. Having had children of my own, I can vouch for the sheer volume of STUFF that first time parents tend to accumulate – most of which are unnecessary and just take up space and money. This is well-written book provides practical and useful information for anyone – first time parents or not. – A Lot of Loves
Bonus
Included with all of the new material in this book are words of wisdom from some amazing writers. I am delighted to include pieces from these awesome women:
Foreward

by Rachel Meeks of Small Notebook
Crystal Paine of Money Saving Mom
Amy Suardi of Frugal-Mama
Kristen of The Frugal Girl
the author of FrugalBabe.com
Thank you to these excellent writers for their contributions and work on this project!
Free Excerpt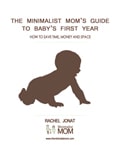 Want to read an excerpt of the book to find out if it's right for you? Just click here to download the first 13 pages: ExcerptMinimalBaby-v1.0.
Thank You

From November 5th to November 12th, $5 from each sale of The Minimalist Mom's Guide to Baby's First Year went to CARE to support maternal health in developing nations. I am happy to report that we raised $120 plus a reader made a generous $25 donation after receiving an advance copy of the book. Many thanks for your support of this great organization and mothers in need.
Price: $5

Also available in paperback on CreateSpace