You don't get a lot of opportunities to try new things as you get older. You have to go out of your way to take salsa dancing lessons, try a Stand Up Paddleboard or learn a new language. And if you have young kids you probably don't have a lot of free time to seek out and engage in learning new things. Yes, I'm talking about myself here but I am sure some of you can relate. In the grind, and joy, of parenting young children and the somewhat predictable days of mid-life, I haven't found a lot of time and energy for learning something new.
Learning something new actually helps slow the aging of your brain. And learning something new actually brings you happiness. If you tack on being outside and exercise to this new thing – boom – you've added something pretty incredible to your life. Who knew I would find all of this in a cargo bike.
I feel like Superwoman on this bike. I feel accomplished and while I am still intimidated – can I get us up that hill? – that small voice saying 'maybe you can't do this' is one that I revel in trying to silence. Again, when are you challenged to do something that scares you in your life? For most of us there are fewer and fewer opportunities to learn something new, something we didn't know we could do, as we get older. So when I got my first ride in with all three kids on the bike – two months and a few dozen short rides in the making – I felt on top of the world.
I can now haul all three children – combined weight of 110 lbs – and gear for a day at the beach on my Yuba Mundo Cargo Bike. I feel safe on the bike but I'm still intimidated at times. I'm still learning new skills, improving my fitness and learning new routes to get around my city. Still learning that I need to balance the load on the bike – put the water bottles in the front bread basket instead of in our single pannier – and still learning the routes and when to gear down. Learning and loving the fun and freedom a cargo bike has given our family.
The kids love the cargo bike. Our middle child actually refused to get on the bike at first. Kicking and screaming would not get on the bike. Now he loves it and is disappointed if we aren't going somewhere by bike. The other thing they love about the cargo bike but probably can't verbalize: it makes our day a lot easier and even cheaper.
The other weekend we had a beautiful Vancouver day with a visit to Second Beach in Stanley Park followed by a late afternoon dip in an urban splash park in the heart of the city. By car the itinerary would have been onerous: expensive and hard to find parking in Stanley Park with stop-and-go traffic. We probably would have skipped the splash pad because there is very little street parking near it and most of it has a short time limit.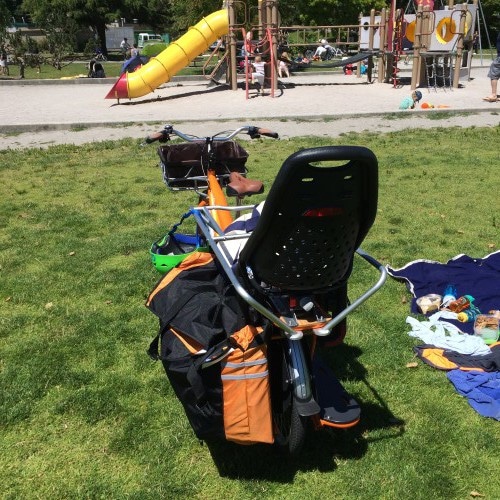 By cargo bike we are nimble adventurers. Load up the Go Getter panniers with lunch and our beach gear and we can go anywhere on a whim. No parking to find and pay for. We roll our bike into the park or to the beach, put the solid double kickstand on, and all of our gear is right there with us. Baby needs a nap? No problem.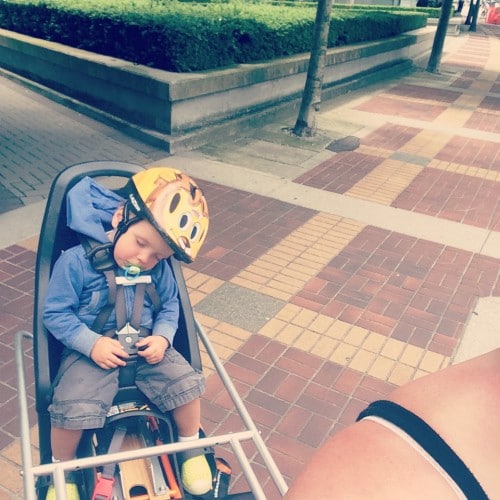 Right now the cargo bike is really cutting down on our driving which I love. School's been out for three weeks and the only time we've been in the car was to drive up to the Okanagan for a family vacation. The car hadn't moved in two weeks and I actually had the thought, should I go turn the engine over?
Some families may be able to splurge on a cargo bike solely for recreation purposes and if that's you, go get one – they are so fun! I recently met a family that was visiting Vancouver from Seattle and had brought their cargo bike up to explore with. The dad told me he 'tested' himself before buying a cargo bike. He kept track of how often they got out with their bike and bike trailer set up for a summer. It was enough usage that he felt comfortable investing in a cargo bike because they biked a lot for pleasure and adventure.
But for most families the price tag of a cargo bike takes it out of being a leisure or recreation purchase; the cargo bike has to reduce or replace other transit costs. I'll have another post about commuting with kids by cargo bike and using it to go car-free or car-lite. There are so many families sharing how they use their cargo bike as family transportation from the car-free, cycle in all weather families to those that cargo bike to reduce, but not eliminate how much they drive. Plus: how those three kids, and beach gear, fit on the bike!