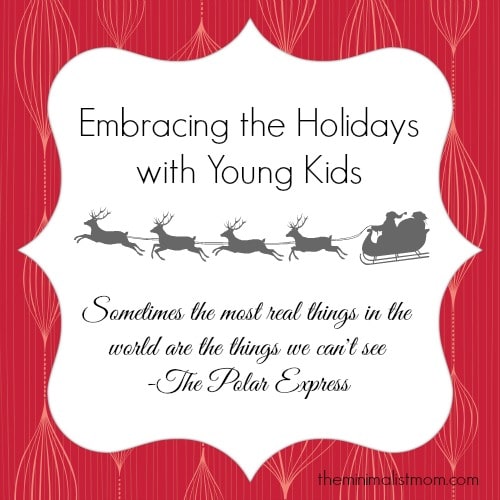 Last year we had a very quiet holiday season. New baby + illness = I'm impressed we actually got a tree up. Last December is a bit of a blur to me now. I have some photos of the older two putting out carrots for Rudolph and cookies for Santa and I remember they slept in on Christmas morning, but I couldn't tell you much more. I know they didn't get out to a lot of the town holiday events because of inclement weather and the new baby.
This year is different: we're in a big city, we're near family and our baby is sleeping through the night (for now!). I am so jazzed for this Christmas, for how excited my older boys are by just about everything and that we are near our family, that we're doing as much as we can. Yes, I'm not simplifying the holidays this year and I'm doing more than we have before.
I read Laura Vanderkam's post 5 Reasons I'm Not Simplifying Christmas This Year and many of my do more reasons are the same as hers. *Laura's blog and books are a must read for productivity lovers/seekers, particularly those with kids and those working a long hours job.
When you keep things pretty simple and low-key for most of the year, you can go big on the holidays without burn out. My kids have a light schedule of classes and activities and my husband and I are home most weekday evenings during the year. If there's a once a year chance for some weekday evening fun that the kids will love, we're going. We had a full day out the other weekend with mini-train rides, meeting Santa and getting pictures taken and watching a big Christmas parade. The kids loved it. We loved it. At the end of November we went to a street festival and watched ice carvers make holiday themed sculpture and checked out locally made crafts and goods.  Most of what we've been to has been within a five block radius of our home – yeah city living!
This year I'm also just letting gifts 'happen' instead of asking/begging Grandmas to give them a bit less. They know by now that we can't keep large items in our small home and that we really love experience gifts. They also know we don't keep everything. If a gift isn't being played with or used, we'll donate it. So my kids will get the fun of opening a gift and the person giving the gift will get to enjoy that experience. Five years into trying to 'live a rich life with less stuff' I don't have to explain any of this to well meaning, love language = gifts, family members: they all know it by now.
We've already changed the how and how much of our gift giving. Almost fifteen years ago my siblings and I stopped buying Christmas gifts for each other and instead bought gifts for families in need. It's now a Christmas highlight for all of us. I don't exchange gifts with friends – we put the brakes on that years ago. Instead we try and meet up during the holidays for a meal and a good in-person catch up. My kids get gifts but I would say they receive a very modest amount compared to their peers. Sure, I could see us doing a no-gift Christmas someday but likely it would be when they are quite a bit older. I'm pretty happy with our already simplified and feel-good gift giving traditions so I don't feel the need to simplify it even more.
I'm a domestic slacker for most of the year. Most of our meals are simple and made with a few ingredients. But I actually really like complicated and extravagant cooking and baking: I used to own a creme brulee torch! I just don't like them enough now, with three kids and limited time, to make a complicated dish regularly. So, I might just spend an afternoon or evening with a bunch of one off ingredients making something delicious, exotic and complicated. *Heavy emphasis on the might. It's fun to cook something not on our regular menu and the holidays is a great time to splurge a bit. Because we keep it simple most of the year and I've got the energy to make a tourtiere from scratch, bake cookies with the kids and their cousins or take a stab at my husband's favorite Christmas dessert, Buch Noel.
This age won't last forever. Our almost three year-old is knocking it out of the park with adorable phrases right now. I need to record some of them because this time is fleeting. Christmas magic and believing doesn't last forever either. So I'm soaking it up while we have it. It is so fun. I keep saying that lately: these parts of parenting are so much fun. The Halloween costumes, the thrill that they are making gingerbread houses at school, the anticipation, the wonder. This parenting gig has really hard days to it. I'm trying to enjoy the great and magical ones to their full extent. So that means a bit of decorating, Christmas songs and candles at breakfast and letting the kids stop at every Christmas tree they see as we walk around town.
So far we've done a lot of holiday activities by our standards and I don't feel burned out or stressed. We've done the big things like the Polar Express and the Christmas Parade and for the rest of the pre-Christmas time we'll do some activities at home like baking and then get out to see some Christmas lights. For the holidays we're having a planned low-key at home Christmas Eve and then back to back days of Christmas with each side of the family. I'm expecting the kids to be cranky and under-slept and overstimulated by the 27th at which point we'll get back to somewhat normal bed times.
When you keep it simple most of the time you can go big and busy for brief periods of time and really enjoy it.

I know I'm not alone on this one: Evelyn and I had the same discussion when we chatted recently. Her children are also at great ages for the magic of Christmas and, like me, they want to enjoy all of it that they can.
How do you get the most out of the holiday season? Do you try and carve out time for relaxing or do you make it a priority to see and do as much as you can?