Last post in the Clutter Cleanse for 2016. Thank you for joining in, sharing your wins on Facebook and Instagram and celebrating living a bit smaller so you can enjoy more of life.

I started this blog to motivate myself to have less stuff. It felt like the walls of our condo were closing in after a stretch at home on maternity leave and the addition of a lot of stuff I thought we needed for the baby. So I started giving away, selling and donating things we weren't using. It felt good. Things snowballed. Suddenly we were spending less money and were on the fast track to paying off some serious debt. 
We've been trying to live with less for almost five years now. And my biggest takeaway from trying to get a bit minimalist-ish is that I have to align what I give my time and space to with what I value. And one of the things I value most is time.
Time is my most precious and finite resource: that feels even more clear and urgent right now as I near forty and the gong of mid-life is ringing. Who and what do I want to give my time to?
Time is one of the reasons I am so passionate about not having a long commute and living in a walkable neighborhood. Sure there are some downsides to not having a backyard but the time positive to being so close to so many amenities, parks, the sea wall, library and so much more is worth it to me. I love a road trip but my husband and I will and have done a lot to make most of our day-to-day lives function on foot.
Still, it's not always perfect. We mostly drive our son to school right now. After a lot of hand wringing and searching for alternate modes of transport and even mulling over moving neighborhoods, we accepted that we couldn't 'have it all' right now with a school in walking distance. It's not forever, there should be a school to walk to within the year, but for now we drive more than I like. It's been a good reminder: I don't like driving. I don't like packing my kids up in the car. The time feels wasted. I also know that this dislike of driving isn't universal. I've met many happy well adjusted folk with fantastic lifestyles that enjoy kicking back in their car for thirty minutes twice a day to listen to audio books or the radio or to just be in a car alone with no one asking anything of them. I get it.
So, after weeks of getting rid of things, what is it that you want more of in your life? Is it time, a person, laughter, home cooked meals, sleep, education, love or premium? There is no wrong answer. But there should be some answer. Even if you already knew it before you started hauling stuff to Goodwill. You should know that there is something you want more of in your life. If you already have it you should be guarding it. Don't let stuff or misuse of time steal any of it from you.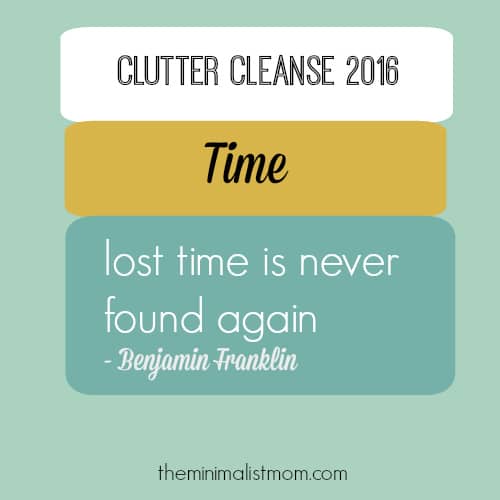 For Anyone Wanting Reasons to Slash Your Commute
This is a hot and beloved topic for me. As a time junkie I am fascinated at how we can essentially do the unthinkable, make more time, by changing where we live, work and get around. So read on if you want more ammo for cutting your drive time. Or close this email/browser window right now if your fine with your driving or feeling crushed by your commute that you cannot get out of right now.
It is ridiculous to commute by car to work if you realize how expensive it is to drive, and if you value your time at anything close to what you get paid. – Mr Money Mustache
If you can, go read this article in The Guardian titled The Secrets of the World's Happiest Cities. If you have a bit more time go check out this post on the personal finance blog Mr. Money Mustache The True Cost of Commuting.
Now, read the following statistics taken from The Guardian article which is an excerpt from the book Happy City: Transforming Our Lives Through Urban Design.
A person with a 1 hour commute has to earn 40% more to be as satisfied with life as someone who walks to the office.
People who endure more than a 45-minute commute were 40% more likely to divorce.
People who live in monofunctional, car‑dependent neighbourhoods outside urban centres are much less trusting of other people than people who live in walkable neighbourhoods where housing is mixed with shops, services and places to work.
Need a few more shockers to help shake you out of the commuter mindset? From Mr Money Mustache:
The 40 minute car commute for a couple driving separate cars is conservatively costing them $125,000 over 10 years and

1.3 years

of worth of working time each.
Think it's too expensive to own a home closer to work? MMM says each mile closer to work saves you enough money to take out $15,900 more of mortgage.
Look, I know it can't be perfect. We can't 'have it all' where we live either. But we can come pretty close by deciding to live without a few things – yard, a bedroom for each kid – so that we have a few more hours a week to do with as we please.
What do you want more of in your life? Has decluttering helped you put more of those loved activities/people in your life?