If you're feeling inspired to make a few life changes, big or small, I highly recommend reading up on the Minimalist movement. I've found great inspiration from the following e-books and authors and some large and small ways to change my life. The following are my favorite resources for decluttering and living simply.

 Fired up and ready to start decluttering? The archives here will show you how I did it. But if you want a plan and more guidance, check out Tanja Hoagland's 30 Day Clutter Bootcamp. It's a day by day guide to decluttering your home and no, you don't need to take vacation days to get it done. Just a small time commitment each day and in a month you will be done!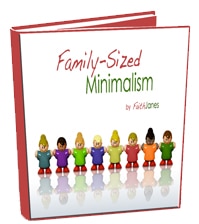 Finally, a guide to minimalism that everyone can benefit from.Family-Sized Minimalism is a book for people with seven bedroom, eight bathroom McMansions and those, like me, living in small urban homes. No matter where you are on your journey, or what your goals are, Faith provides a detailed how-to for tackling clutter in rooms, minds and schedules. Worried about what friends and neighbors will think when you start emptying your house? The benefits to embracing minimalism are listed and discussed in-depth.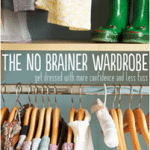 My favorite place to start when decluttering: my wardrobe. Favorite and yet, clothing can be an emotional starting point. What if I someday lose the weight? What if I someday find the perfect shoe for this dress? I cam across Hayley Morgan's The No Brainer Wardrobe ebook soon after having my second son. I was back to prebaby weight but not happy with my closet. This book gave me a lot of confidence to rebuild my capsule wardrobe and actually helped me enjoy finding the right clothes.
&nbsp